Ruben Landeros – Victor's Plumbing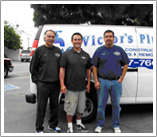 This letter is our personal recommendation for Robert Harvey and his Crew at Pinpoint Leak Detection. Victor's Plumbing has used Pinpoint's services for over 20 years and we have found them to be experts in their field of Leak Detection. They have always been prompt and consistently pleasant, tackling all assignments with dedication and a smile. Victor's Plumbing, highly recommends Pinpoint Leak Detection.
Mark Tubbs – Harold's Fast Rooter
 We have worked with Robert Harvey and Pinpoint Leak Detection Inc. for almost 20 years. In our line of work it can be difficult to find reliable and responsible people to work in conjunction with. We have always found Pinpoint Leak Detection to have excellent business practices when it comes to working with our customers and our employees. We know when we make that call to book a leak detection service that Robert or one of his employee's will be at our job on time and ready to take care of our customers so we can get our job done. His service has been an invaluable asset to our company.
Harold's Fast Rooter highly recommends Robert Harvey and Pinpoint Leak Detection. They have proven to be outstanding and unique in the field of leak detection.
Matthew Linn – Economy Plumbing Inc.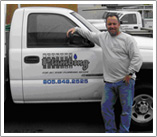 This letter is reference to Pinpoint Leak Detection Inc. and Robert Harvey. I have known and worked with Robert and his company for close to 20 years. I have come to know Rob personally as well as professionally. He has always had the utmost integrity while on and off the job.
I would recommend Robert and Pinpoint Leak Detection to anyone on the job or off.